The Way of Harmonious Spirit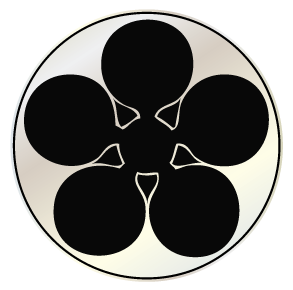 Villa Rica Aikido Martial Arts
Welcome to the Villa Rica Aikido website. We are a family oriented martial arts school that teaches Suenaka Ha Tetsugaku Ho Aikido. We are located in Villa Rica, Georgia, thirty minutes west of Atlanta and ten minutes west of Douglasville.
Class Schedule
General Classes
Additional Classes as Scheduled
| DAY | HOURS |
| --- | --- |
| Monday | 9AM - 11AM |
| Tuesday | 7PM - 9PM |
| Wednesday | 9AM - 11AM |
| Thursday | 7PM - 9PM |
| Saturday | 10AM - 12PM |
Basics Class
| DAY | HOURS |
| --- | --- |
| Monday | 6PM - 7PM |
Advanced Class
A minimum rank of Sankyu is required
| DAY | HOURS |
| --- | --- |
| Monday | 7PM - 9PM |
Fees & Uniforms
Monthly dues are simply $45 a month with a one time $10 registration fee. We have zero membership contracts. Aikido Uniforms can be purchased through us if you are a member. Or you may purchase one from any online store that offers Aikido Gi's.
Our Philosophy
At Villa Rica Aikido in West Georgia, we believe in martial arts as a means of self-defense, personal and spiritual growth. For us, the study of martial arts is not just a hobby or pastime, but also a lifelong path of physical, mental, and spiritual development. We train techniques that work, regardless of the strength or size of our opponents. We focus on thorough practice and mastery of the essentials rather than mere memorization of techniques. We question, research, test, and revise every aspect of our study in order to become true masters of the art. We train hard on the mat and treat each other like family off of it. We believe that the only path to mastery is diligent practice and proper attitude.
Book
Complete Aikido : Aikido Kyohan - The Definitive Guide to the Way of Harmony (Tuttle Martial Arts)
This book details the history of Wadokai Aikido and demonstrates the correct way to perform many of the practice exercises and techniques. Never a replacement for actual instruction but a valuable supplement. Purchase via Amazon
See Aikido in Action
You are invited to watch our Aikido instruction during any of our scheduled classes. Please contact us to schedule a time. Parents and family members are also welcome to come out and watch a class. Schedule a Visit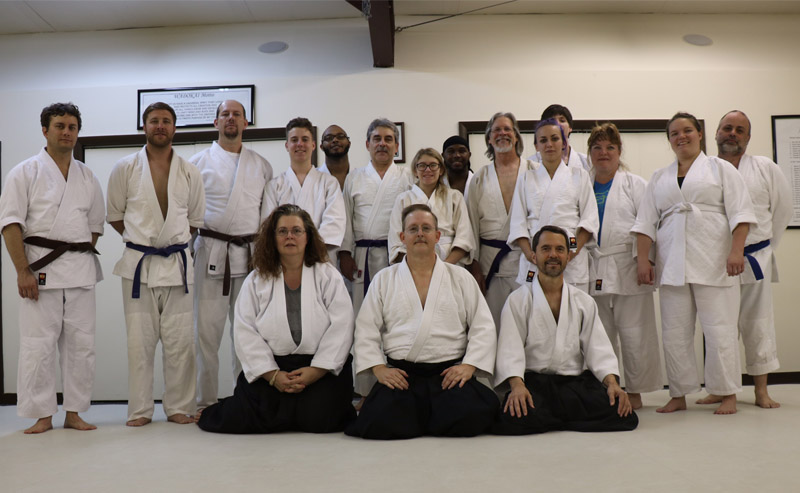 Free Starter Classes
You are welcome to directly experience a class as well. At Villa Rica Aikido, we offer three free classes where you can participate on the mat. There are no fees, contracts, or obligations of any kind. We only ask that you sign our general waiver as is standard practice with all Martial Arts schools. Wear something comfortable and loose but no shorts. Since we will be tumbling on the mats, you will want some type of protection for your legs. Sweats or loose pants are OK. Make sure it is something you can stretch in. If you want, you can purchase a uniform later. The facility has separate men's and women's changing rooms for your convenience Free Starter Classes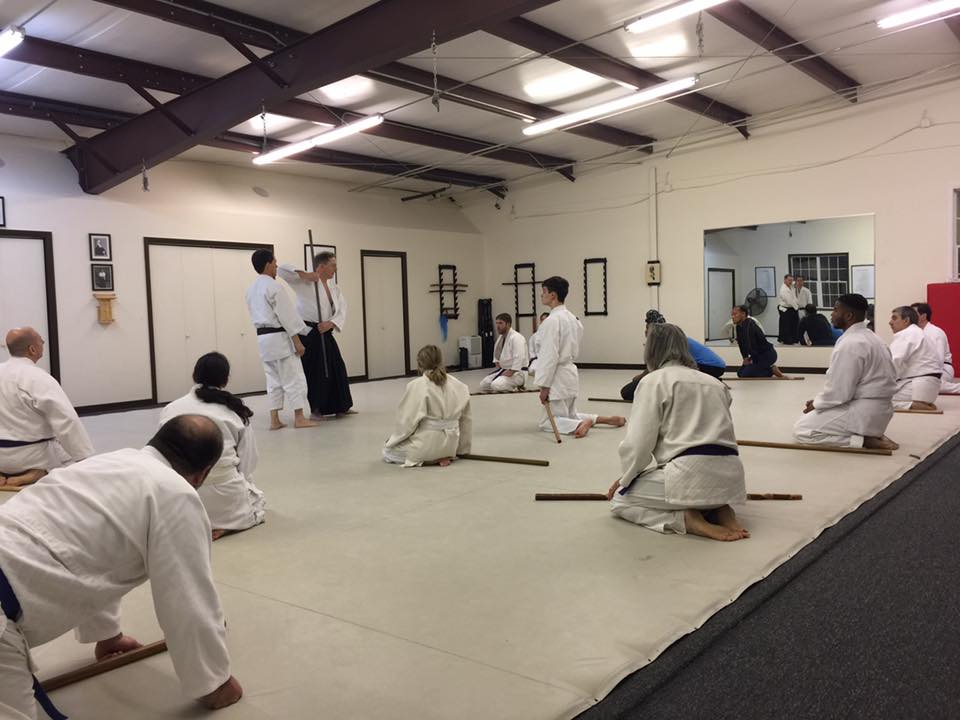 Qualities Developed Through Aikido
Aikido training promotes physical conditioning and places great emphasis on the development of positive human qualities: compassion, courage, endurance, and inner strength. In this spirit, Aikido training is undertaken with the goal of improving the individual and thereby society as a whole. While Suenaka-Ha Aikido is an effective martial art for self-defense, it also offers a positive philosophy that includes the concept of unification of mind and body. Many of the things you learn on the mat will also enhance activities in your daily life. Aikido does not rely on speed or force, but rather uses joint locks, pinning techniques, and throws to control a person and apply techniques safely. The techniques of Aikido include a focus on taking your opponents balance and redirecting his own energy. This approach provides a very powerful means of self-defense that is not dependent on physical strength. In fact, one of the key elements of Aikido is the ability to stay relaxed and centered in the face of adversity